(Русский) Road to London 2018: Week 13/20: 26.02.2018-04.03.2018 – to Rest or too late?
Цели недели:
– Объем 100-110 км в неделю
– две интервальные/темпо тренировки + средне длинная + длинная
– интенсивность.
Т.е. планировалось улучшать форму дальше, но видимо не все так просто. Тренировки, внезапная очень редкая для наших краев, морозная погода до -15, поездка в другой город по делам – и произошло что-то странное …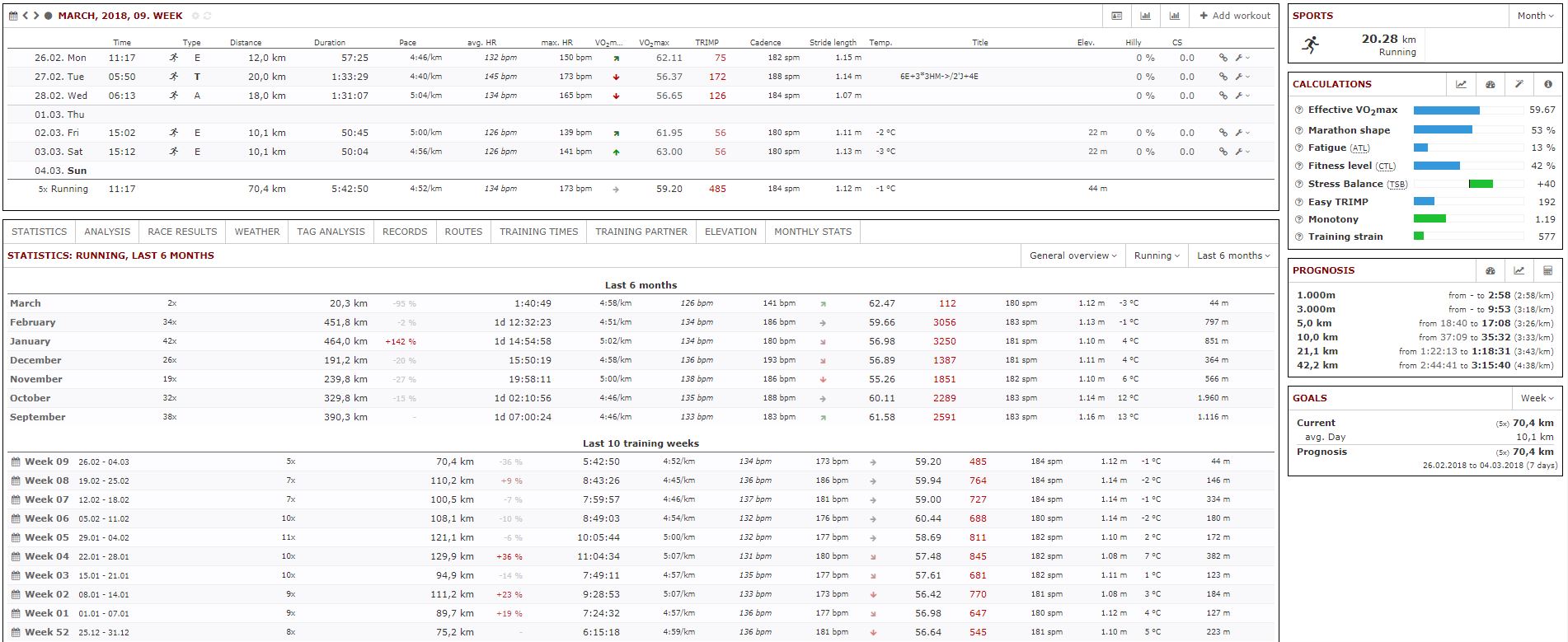 Посмотреть картинку в отдельном окне
Силовые.
– 0, сил нет.
Бег.



70 км, уже два пропущенных дня после 44 дней без перерыва.
Смог сделать только одну качественную: 20 км = 6E+3*3HM->/2'J+4E – На беговой дорожке, скорость повышалась от 3-50 до 3-35 мин/км. Цель – силовая выносливость, ПАНО.
И сразу после тренировки – на поезд, по делам в другой город. Вроде просто сидел в поезде, общался, но видимо общий стресс накапливался.
На следующий день среднедлинная 16 км, на дорожке. Бежалось очень тяжело, надо прекращать тренировку, но решил дотерпеть. Зря! Вот тут то и наступила перегрузка.
Странное состояние: температуры нет, насморка нет, горло не болит, а общее ощущение как при простуде, пульс покоя повысился. Аллергия на мороз?
Сделал паузу, день без бега, стало лучше.
Пятница и суббота две легких пробежки, по 10 км. Холодно, но бежалось нормально, 5 мин/км, пульс 130-135.
Подумал что все нормально, настроился на длинную в воскресенье.


В воскресенье потеплело, почти весна, а у меня 37,5 и тело ломит. Пострадал, но понял что не время сейчас геройствовать. Отдыхаем.
Неделя отдыха была не запланирована, но организм взял свое.
На новую неделю планов пока нет, отдых, восстановление. С температурой бегать не разумно, по моему. Хотя мнения есть разные.
А как у вас с погодой? Уже весна?
Бывали ли ситуации когда из-за болезни надо было делать незапланированный отдых и как вы себя при этом чувствовали?